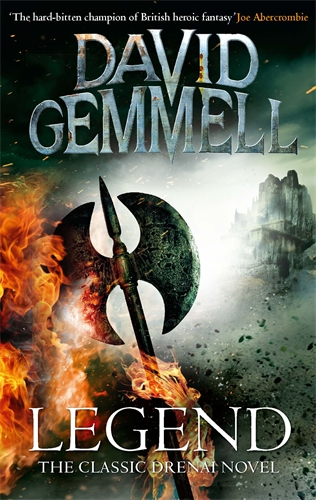 I wouldn't normally choose something quite as… battly, but this one came recommended so I thought I'd give it a try.
The writing style doesn't have much finesse, but then it was Gemmell's debut novel, so it's quite possible he improves over time. Another criticism would be that he really doesn't understand women – the point of view shifts between characters throughout, and the women are a little odd, to say the least.
That said, the events of the novel are suitably epic, with the odd real-world historical echo in there. The central character, Rek, falls in love with and marries the daughter of an earl, whose fortress is in danger of attack by a vast invading army. He reluctantly joins the siege to defend what is now his family's holdings, along with the aging legendary warrior Druss.
Gemmell conjures up some interesting concepts, for instance the group of thirty warrior-monks (with the ability to see the future), and toys with ideas of the after-life. To my personal taste, I would have preferred more detail on these, and on the lives of the characters we meet, than so much description spent on military and strategic proceedings and the minutiae of the siege. There were some very gripping action sequences, however, and some touching moments.
All in all, I get the impression that this is a very manly book, with the emphasis on heroic action. Not exactly to my taste, but if that's what you want, Gemmell's Drenai series can provide it!
Next up: The Raven in the Foregate by Ellis Peters